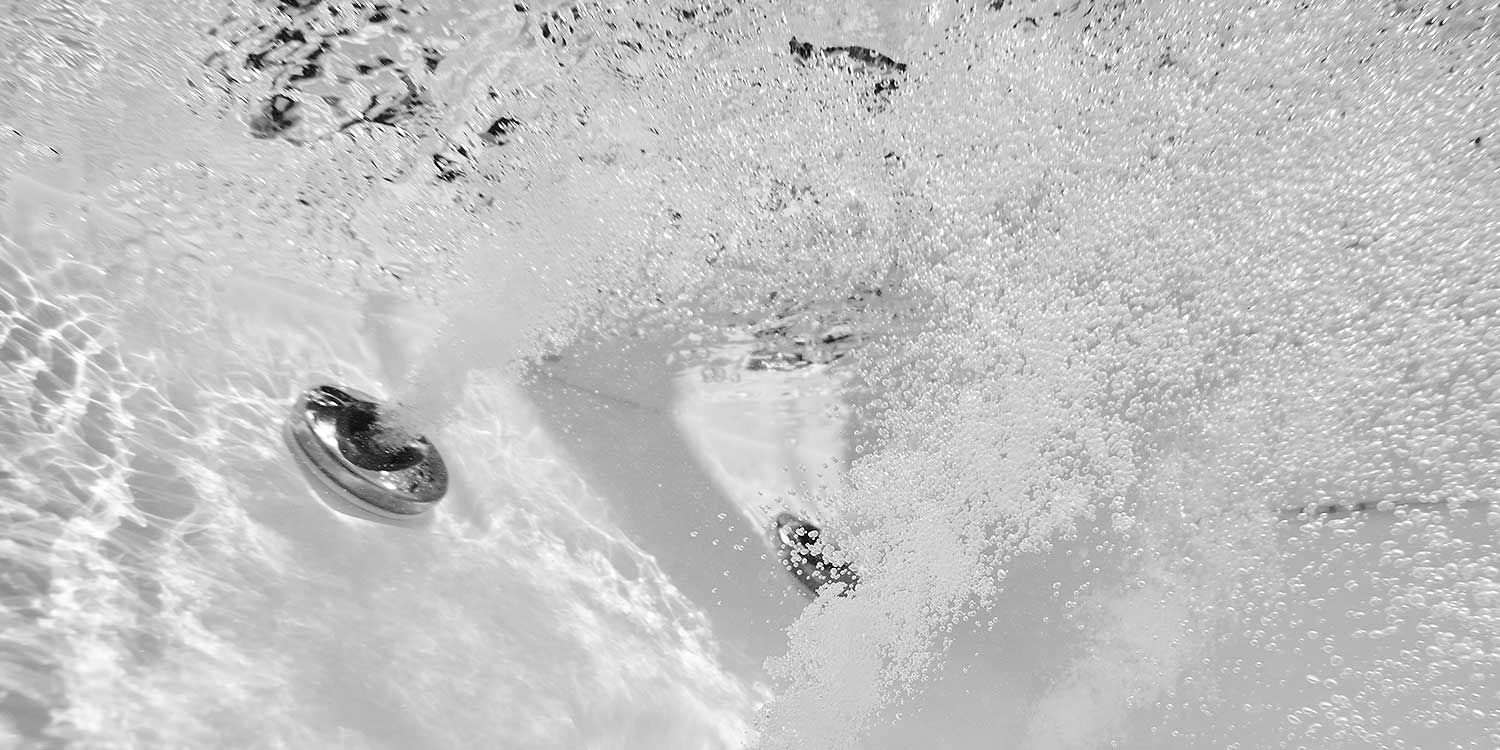 liquid massages and stretching for sore muscle relief
Warm massaging water all around your body softens connective tissue like heat softened plastic, heals sore muscles, relaxes them and improves their flexibility and elasticity. An amazing therapy for back pain and muscle stiffness.
Stretching in the clear, clean and warm water of your spa also comforts muscular aches and pains. The heat of the water eases the exercises and its buoyancy and movement make stretches easier to perform and more relaxing.
When a spa massage is followed with gentle stretching, cramps, pains and tensions disappear and the soothing effects on your muscles are obvious. Doing so in in.clear treated spa water adds to the pleasure and boosts your sense of self-fulfillment.
in.clear clean, clear, and soft water for optimized spa massages
thermal workout
a healthy bathing experience every time you use your spa
Warm water opens the pores of your skin, increases your blood circulation and makes you sweat. This healthy process removes toxins, bacteria and viruses from your body and stimulates its immune response.
With increased blood circulation, your blood pressure reduces and your heart function improves. Your body makes better use of its insulin, slightly reducing blood sugar levels. This relaxing thermal workout really contributes to improving your health.
in.clear generates and releases bromine into the water to eliminate microbiological contaminants such as waterborne bacteria, algae, and organic matter given off by spa bathers for a relaxing, enjoyable and healthy bathing experience in soft, clear and clear water every time you use your spa.
skin therapy
the natural cleansing of spa massages in clear, clean, and soft water
Being massaged in clear, clean and warm water is like a natural cleansing process. It opens up pores, and removes toxins and leaving your skin smooth and soft.
Water hydrates the top layers of your skin. It cleanses sebum, secretions, dirt, bacteria, microorganisms, dead skin, cosmetics, care products and medication. It softens the skin so moisturizers, applied after the spa, can be easily absorbed.
By eliminating all organic matter given off by spa bathers, in.clear ensures that water remains pristine and contaminant-free whether or not the spa is in use.
in.clear for pristine and contaminant-free spa and hot tub water
Distinctly blue since 2001!
the true color of Gecko Alliance's control systems and accessories for spas
GECKO ALLIANCE GROUP
450 des Canetons, Québec, QC, Canada, G2E 5W6, 418 872-4411
©2018 Gecko Alliance Marketing Services